Prince George and Prince William Christening: which one do you prefer? [Photos]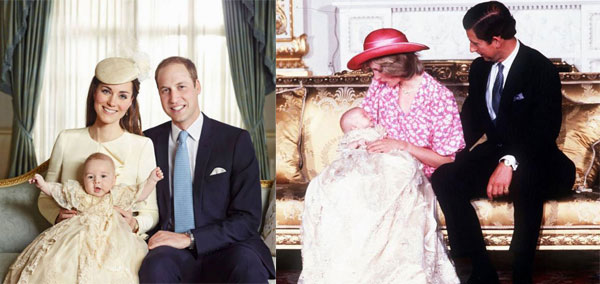 The world is talking about the Baptism of the Royal Baby, Prince George. The photo of the day dedicated to the son of William and Kate Middleton, have been around the world and have been published by major newspapers (read here more).
More people have in their memory the day of the baptism of another Royal Baby: Prince William. Here are pictures of the two baptisms in comparison: as you can see the two princes have the same dress (here the details of the one of Prince George), and both appear already in attitudes compounds. Different looks chosen by the two mothers: Princess Diana, at the time, had opted for a dress in shades of pink, while Kate Middleton chose a cream dress by Alexander McQueen.
Which photo do you prefer? Vote here:
Loading ...
Like and share this facebook pages dedicated to PRINCE GEORGE ALEXANDER LOUIS OF CAMBRIDGE and CATHERINE, DUCHESS OF CAMBRIDGE
Stampa articolo
Commenta con i tuoi amici su Facebook