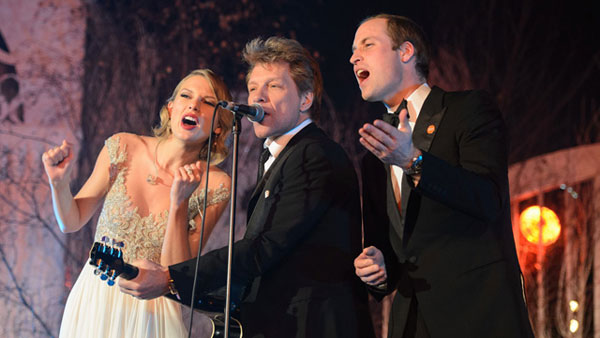 As we told you (here), last night there was a party at Kensington Palace, the Winter White Gala, an evening dedicated to the support of Centerpoint. For the occasion, Prince William went on stage with Taylor Swift and Jon Bon Jovi and sang a special version of Livin' on a Prayer. The Duke of Cambridge has met the two singers for a drink before the start of the evening and then decided to join their performance.
Read also: THE WEDDING CAKE OF PRINCE WILLIAM AND KATE MIDDLETON IS READY FOR TWO OTHER CHILDREN
During the performance of Bon Jovi, Taylor Swifth, fresh winner of four Grammys, took to the stage to accompany him in the performance along with the Prince. The trio has dusted off a classic of American singer-songwriter, and the future king has appeared singing the chorus.
Read also: PRINCE WILLIAM WANTS THE PLAYSTATION 4, BUT KATE MIDDLETON DOES NOT AGREE
Kate Middleton was at home with the little prince George (VISIT HERE HIS FACEBOOK PAGE).
Here are the pics in the gallery.