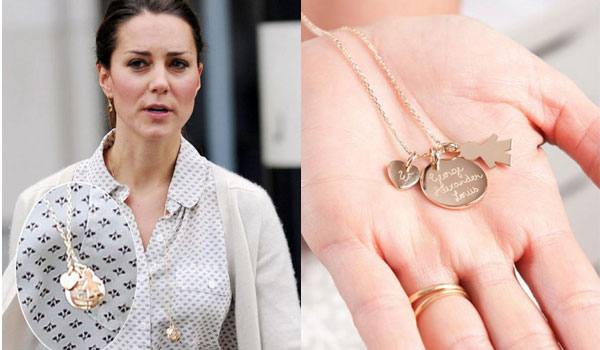 Kate Middleton, the beautiful Duchess of Cambridge, is now inseparable from her gold necklace that is engraved with the name of her child, Prince George Louis of Cambridge.
Read also: KATE MIDDLETON IS THE BEST DRESSED WOMAN IN THE WORLD

The beautiful gold pendant features a round plaque engraved with the name "George Alexander Louis", a small heart engraved with the W of William and, finally, the silhouette of a child.
Do not you find that it is also a beautiful gift for a new mom? A version similar to that of Kate is given by "Merci Maman" at the rate of 89 pounds.
Read also: PRINCE GEORGE'S FIRST HOLIDAY WITH KATE MIDDLETON. WHAT ABOUT WILLIAM?
FOLLOW HERE THE FANPAGE DEDICATED TO PRINCE GEORGE